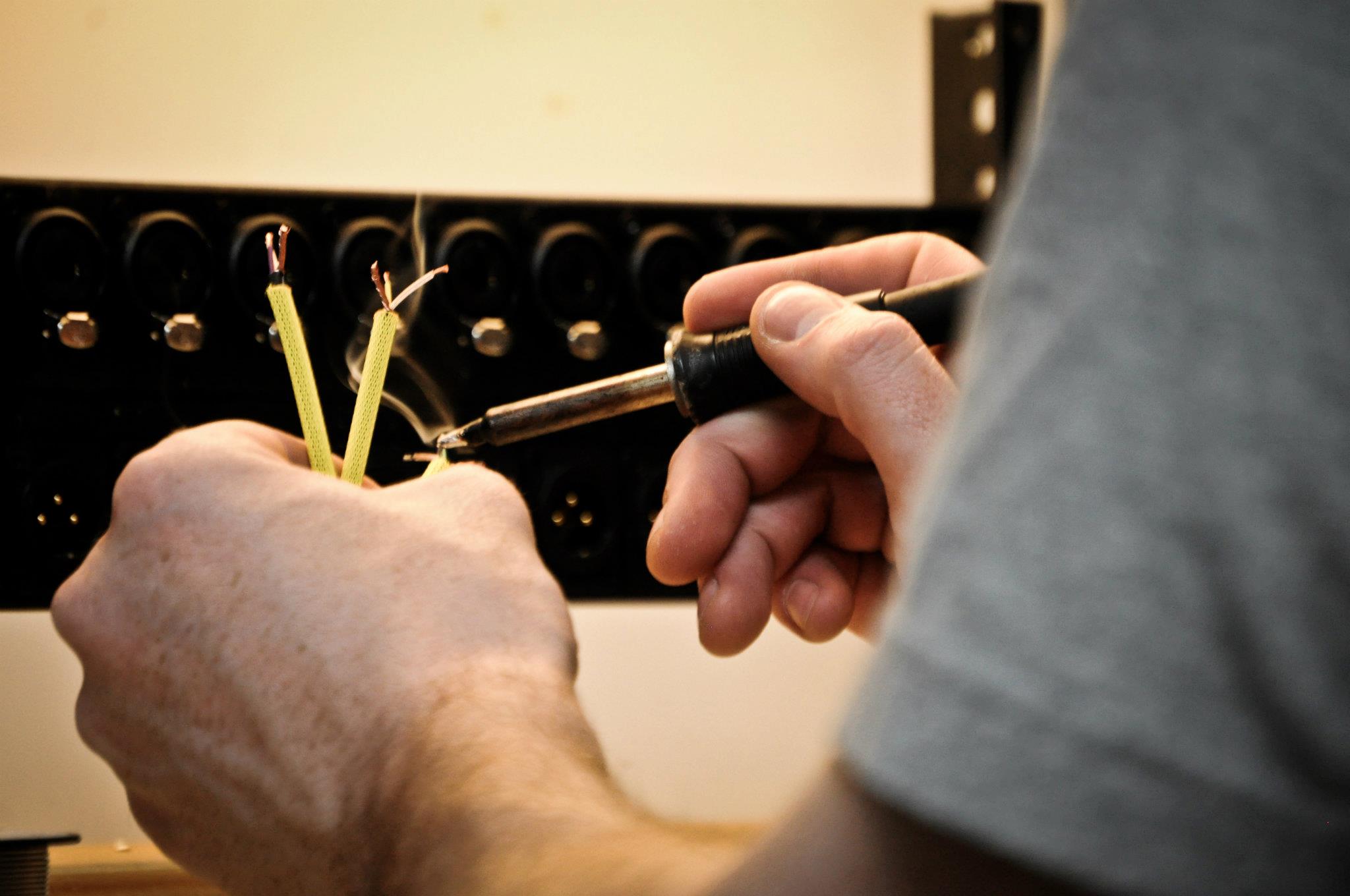 The solder fume extractor is designed to absorb fumes while you're soldering in a workshop, and prevent dissipation in the room. Solder fume extractors should be easy to use, compact and powerful to remove all the smoke.
With plenty of options available, it may be difficult to find the best solder fume extractor. We've provided our top picks for the best fume extractors in the market based on their product features and functions.
What is a Solder Fume Extractor, and Why Do You Need One?
Soldering fumes are metal vapors released into the air due to alloys being melted together. If you're in the workshop performing soldering work, fumes and other particles will be produced which can be hazardous and toxic. Inhaling the smoke, lead, fumes, or gas in the air can cause congestion, skin problems, and asthma.
A solder fume extraction system is typically needed in the workspace to ensure everyone's safety and health. This device usually has a fan and a filter on the frame and the fume is sucked into the solder fume extractor. An activated carbon filter will filter out particles and recirculate the clean air.
How to Choose the Best Solder Fume Extractor
To choose the best solder fume extractor, several key factors need to be considered which are its features, ease of use, and design.
Solder Fume Extractor Size
The size of a solder fume extractor can be important and should depend on the size of your workstation. Some are small devices meant to be used for your benchtop, while others can be used for the entire room.
Absorbing Power of the Fume Extractor
Any extraction system should have high and efficient wattage to quickly remove the fumes and provide high-quality back to the room.
Easy to Clean or Replace Filters
You will probably expect to use your equipment for a long time so it's important that you can replace filters easily.
Fume Extractor Noise
The noise typically gets louder as the power of the fume extractor increases. If you work with many other people you may want to choose a product that produces less noise.
Build and Durability
Ideally, you'll want a solder fume extractor made of high-quality material such as a stainless steel body for long-term use.
Additional Features
Some solder fume extractors offer other features that you might find useful. For example, a model with a magnetic belt attachment allows you to put a multimeter within range while working. There are also some solder fume extractors that include a kickstand for hands-free operation.
The Best Solder Fume Extractors for 2023
After extensive research, we've compiled a quality list of the best fume extractors in the market.
The Kotto Solder Fume Extractor is rated at 120 volts and 30 watts and can remove fumes 5 to 6 inches away, which is more than what many other tools in the market can do. In addition, it includes four non-slip heavy-duty rubber feet which help anchor the extraction system to the ground.
With its 0.4 inches activated carbon filter, this device can effectively capture solder fumes, gases, chemicals, and flux.
In addition, this unit has an optimized 3000 RPM high suction fan for noise-free operation. We believe the Kotto is the best overall fume extractor because it combines high suction power, quiet use, and easy-to-replace filters.
The MUIN Solder Fume Extractor differentiates itself from its competitors with its 3-stage filter system to free your working area of dangerous solder fumes, flux, and chemicals. It includes a fabric pre-filter, activated carbon filter, and a photocatalyst filter which can easily absorb and capture these particles and quickly convert them to clean air. The efficient use of these filters also helps reduce unwanted odors on your bench and workspace.
This soldering fume extractor also has a compact design making it incredibly portable and space-saving for a solder workstation.
The NOEVSBIG extractor is built with an optimized 3300 RPM high suction fan to quickly suck in smoke and any toxic fume in the area. This device comes with two replacement filters so you can conveniently replace them when needed. It also comes with a carrying handle for you to transport it easily.
The NOEVSBIG Smoke and Soldering Absorber have an ESD-safe design meaning the device is made from ESD-safe materials and prevents electrostatic discharge. Electrostatic discharge can be dangerous if two materials with different charges may come into contact or in proximity to each other, causing disruptive damage such as explosions in fuel vapor, gas, and coal dust that can permanently damage your surrounding equipment.
The Poafamx is one of the few solder fume extractors that offer three functions in one device: smoke and soldering fume absorber, LED lighting function, and filtering function. The LED lighting is attached to the suction and can be used to adjust the brightness of the tool. Having bright lighting can be very useful, especially when you're soldering materials that let out small amounts of fume or smoke. In addition, this can act as a desk lamp and save you space from needing an actual desk light.
It's also one of the only solder fume extractors with a benchtop clamp to easily attach to your work desk. Since the exhaust hose is relatively long, it's easy to keep the absorber where you need it while working.
If you're in search of solder fume extractors that are small and compact, the Anztek Extractor is a great option. Small fume extractors are ideal for stained glass work, arts and crafts, mobile phone maintenance, and any work you do with other electronics. Despite its small size, it has high performance and high-quality features.
The Anztek absorber uses 5 active carbon filters and each filter has a special foam with high flux and suction absorption properties. Like other quality solder fume extractors, it has a 3000 RPM suction fan to free you from fumes and particles that are 5 to 6 inches away, and users can control the power output.
The Toolour extractor and absorber is another versatile tool that can be used to perform various key functions like removing fumes, lead, smoke, and other harmful particles. This absorber comes with a multifunctional lamp with 10 brightness levels and 3 light colors to help you work in any lighting conditions. These lights also provide natural lighting illumination so that it provides a soft glow to protect your eyes.
Unlike other solder fume extractors, this one looks like a desk lamp with an extendable long arm that expands up to 14 inches, making it very useful for larger workstations. There is also a metal clamp to secure the position of the extractor.
The Verdict
The best choice will depend on your needs and priorities. For example, if you need something powerful and portable, we recommend Knokoo Portable Fume Extractor.
If you mainly solder more minor metals, consider using ones with a lighting feature such as the Toolour 3-in-1 Fume Extractor so that you can see more clearly while maintaining safety standards.
If you're looking for something with a long reach, the Kotto Strong Suction Hose Fume Extractor has a 24-inch tube allowing you to reach other areas of your station.
Safety is an important concern when you're working with materials that produce any chemical solder fumes. The best solder fume extractors can remove smoke and lead fumes efficiently, last a long time, and provide good value for money.